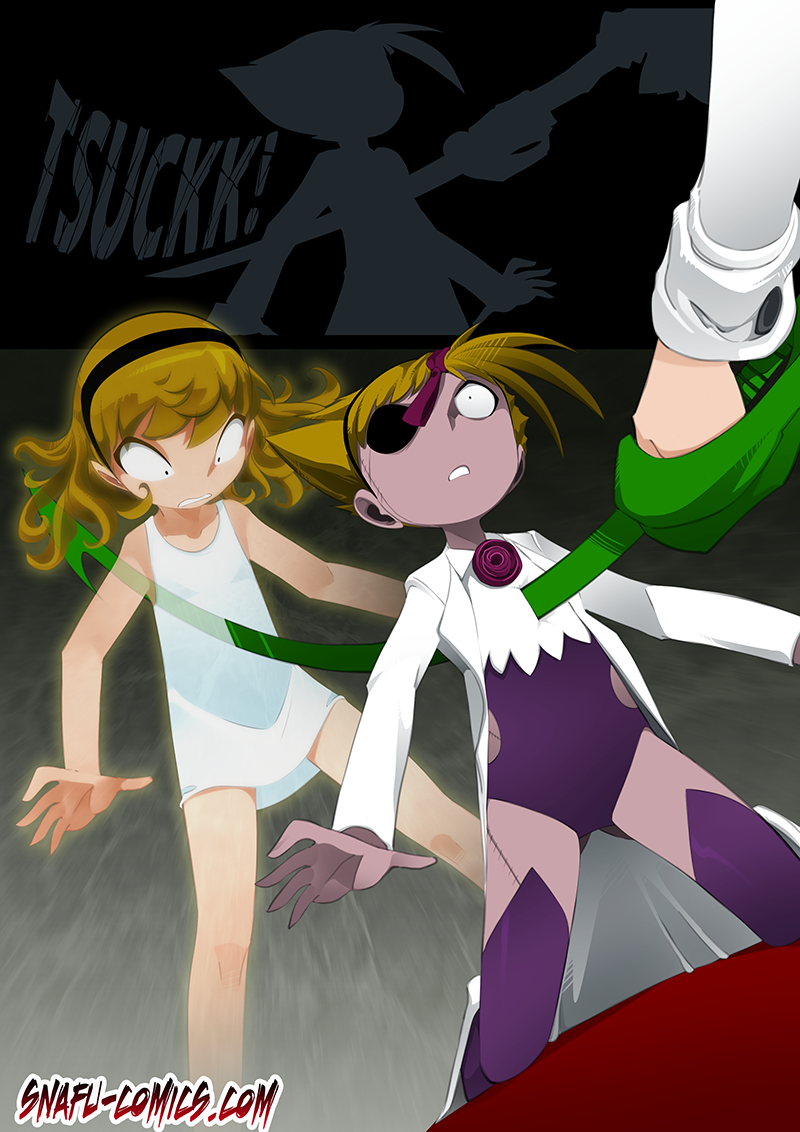 Read the rest of the comics at Snafu-Comics
---
My Fanfics :
---
Fanfics that I have found interesting and have recently been updated:
A Final Fantasy 7 Fanfic
Summary:  Cissnei wanted to save Zack that night, only to find that it was too late. Though she couldn't bring him back to life, she could keep his legacy alive. That was why she refused to abandon Cloud on his journey, despite going against her former friends and colleagues.
---
A Naruto Fanfic
Summary: A/U: Leaves spiral in the soft eddy as Naruto meets Karin in the Forest of Death. From that moment on, the two bearing the Clan name carried with them the fate of the Uzumaki and would be forever entwined.
---
A Pokemon Fanfic
Summary: Time travel, based on the Anime.  So, the world ended. That's bad news. Who best to get to fix it? Well, there is this guy with a track record in world saving…  Not entirely serious. T rating may be overdoing it.
---
Lillie's Z-Powered Adventure!: Lillie on the Scent! The Search for Moon Square! [P12] –  [P13] (Tv Tropes Page)
A Pokemon Quest
Summary: A Pokémon Sun and Moon quest running on Space Battles and Sufficent Velocity by Arkanian that follows supporting protagonist Lillie as she begins her adventure in Kanto. Having vowed to meet up with Moon at the Unova World Tournament, Lillie must complete her journey as a trainer and take the spot as the Indigo Champion in order to be guaranteed a spot and keep her promise. That mean she must do as the champions before her and gather 8 badges before taking on the Elite Four.
---
Service with a Smile 1 – 29
A RWBY Fanfiction
Summary: When Jaune's forged transcripts were rebuffed, his only option was to return home in disgrace or forge a new life in Vale. Opening a diner was an impetuous decision, being good at it a stroke of luck. Becoming the favourite haunt for students, teachers and criminals alike…? That was neither, but it sure did keep things interesting. Wasn't the civilian life supposed to be easier?
---
A Fire Emblem Fates: Conquest Fanfiction
Summary: "From this day forth, we make a promise. We will be a family that doesn't keep secrets from each other. We will be a family that won't abandon each other in times of need. We will be a family that doesn't hurt each other. We will be a true family." A collection of ideas, discussions, and short stories to expand the universe of Fire Emblem Fates and an exploration of a slightly alternative path to Conquest.
Note: It's a script fic, but it has excellent world-building. Check the codex for more details.
---
Return to the Village (One-Shot)

A Fire Emblem Echoes Fanfiction
Summary: When a Celica corrupted by the powers of Duma is called to the Order of Heroes, Faye is assigned to be her partner, and to fight alongside her. And as she does so, she cannot help but wonder… how much of the old Celica remains in her?
---
A Fire Emblem Echoes Fanfic
Summary: Alm is not the thing Faye can't forget. An alternate take on Faye's epilogue.
A Young Justice Fanfic
Summary: An SI with an Orange Ring ends up in the Young Justice Universe and seeks to advance humanity through advance technology and magic.
---