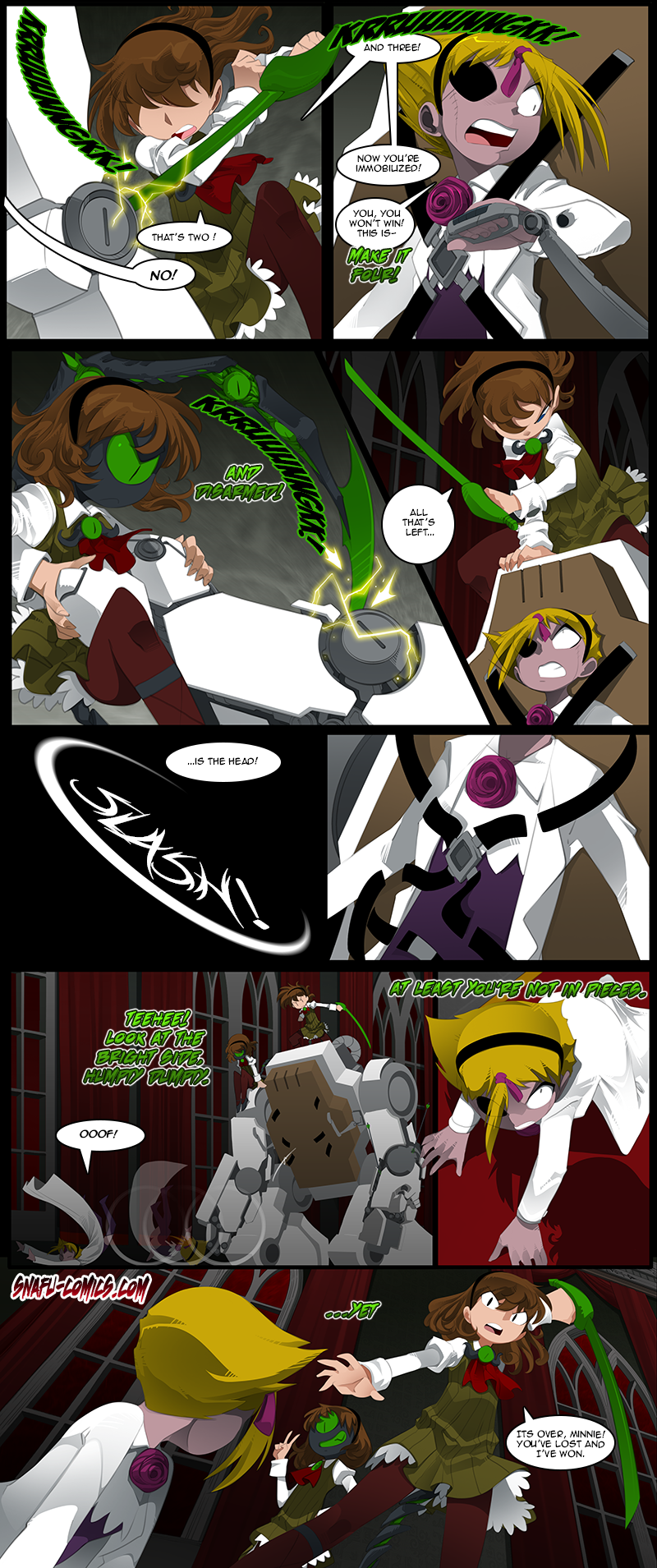 Read the rest of the comics at Snafu-Comics
---
Chapter 20
After she finishes her Lunch, Saegusa follows me down a corridor that leads to what was formerly the Old Worm's study. She's nervous as she trails behind me, eyes peering into every shadow. It's like she's expecting something to leap out and attack her.
'We're—' She jumps the moment my mind touches hers. '—almost there. You need to calm down or it'll be harder on you.'
Her short hair bobs as she drops her head, bringing her hands to her chest to settle her heart. "I'm sorry. I'm just a little nervous."
More than a little. Not that I can say I'm surprised. It's not just her mousy disposition at work, but how the Old Worm constructed this place.
The domain of a magus was one where they were most comfortable, and the place where they had the most power. The shadows hid countless cracks and crevices his familiars could fit themselves into. The walls were always watching and listening. Even now, the ghost of his presence persists.
"It's just us here," I tell her in as nice of a voice I can manage, trying to set her at ease. "Nothing will hurt you. I promise."
Her eyes look up towards me for a moment and there's relief in them. But then she looks away, casting her eyes on the walls again. "…Umm… I'm surprised that you don't have any pictures here."
"What do you mean?"
"Of your family," she clarifies. "I just thought that a place like this would have a lot of pictures of your ancestors. To help you remember them since your family has lived here for a long. Maki-chan has a lot of them."
The Old Worm didn't bother with keeping portraits of the family members, including himself. They weren't important to him beyond continuing the bloodline. And there was probably nothing he felt the need to keep around to preserve a memory, since he kept himself alive to remember it.
"I guess my family was never interested in that sort of thing." We reach the door to the study at the end of the corridor. I enter first and flick on the lights, causing the room to brighten from absolute darkness to a subdued and dim brightness. Enough to read something without straining the eyes, but not enough to warm the room.
Saegusa sits in the chair in the middle of the room, about a yard away from the of the thick, wooden desk I sit behind. It's large and cushioned, so she'd be comfortable for the next two hours. But a mixture of anxiousness and nervousness keeps her spine stiff on the edge of it.
'Sit back and relax. We'll be here for some time and you need to be comfortable.'
She slides back in the seat before settling in to listen as best she can. Her eyes never leave mine while I give her a larger overview of the nature of Trance than what I did when we were in the future, such as the factors that influence the telepathic waves, limitations, and so on. It's only when I explain the concept of the Mind Jack that she looks lost. "So… it's like those can-and-string telephones my brothers played with?"
'Those work because sound waves cause the cans to vibrate, which passes through the string to do the same to the other one. Mine uses a hollowed-out channel for trance waves to pass through without interference through the active-use of psychicer's power. We can go over the specifics another time, but for the moment you need to learn how to project your own thoughts to others. Are you ready to begin?'
She takes a deep breath. "I'm ready, Matou-san."
I walk her through the basic steps and sit back to see if she can manage on her own for the next thirty minutes. In theory its relatively simple: you bundle your thoughts up and float them over like a cloud. Since Trance energy has a more 'immaterial' feel to it than Burst energy under normal circumstances, viewing it that way helps the unformatted energy inside of you take on that nature.
However, it… doesn't go over so well with her in practice. Her soft pants pad out the isolated room and beads of sweat dot her brow. But, even with her appearing to try her hardest, her failures only continue to mount.
Once we reach the thirty-minute mark, I call it. "It's been thirty minutes. Take a break."
She refuses, shaking her head. "I can do it this time. I know it."
"I said that's enough, Saegusa."
The message carries, and she stops straining herself needlessly at the slight rise in my tone. But her head hangs low with the weight of her failure and she takes a deep, shuddering breath. Don't tell me she's about to cry?
"I couldn't get it," she says in a small voice, barely above a whisper, while placing her hands on her lap. "I tried, but…"
"That's fine," I tell her. "The whole goal for now was to see if you could grasp it on your own enough to where I'd be confident that you could manage even if not under supervision. The fact that you couldn't just means that I have to guide you with a more hands-on approach."
Her skirt shifts as she clutches the fabric tightly. "But… if I can't use this one, then I'll have to…"
"If you can't get it before our next trip then we'll keep you safe and then try again afterwards. By then your abilities will have increased so we can make it work."
"But I don't want to be protected." She slowly brings her hands up her chest and crosses them over her heart. "Maki-chan, Kane-chan, and even you… all of you got hurt helping me. I couldn't do anything but watch. It hurts when I think about it, and I don't want to just watch again as everyone else…"
Her voice cracks as she trails off. Not that I can blame her when I know that feeling. Or a similar kind of feeling—hers are likely a product of her caring nature, whereas mine stems from the need for personal independence.
To not be able to do something you should on your own eats away at you. Because not only did you lack the power to deal with a problem yourself, but you were completely at the mercy of someone else who saved you on a whim. Had it been anyone other than Emiya who saved me, albeit through Tohsaka, and Sakura who helped nurse me in my weaker moments, I'd never be able to live with the shame.
Taking that into consideration, it's likely her mental hang-ups are also what's stopping her from getting the hang of it. She needs to have a clear mind starting out if she's going to do this. But if we're going to fix that issue I need to know what's going on in her head.
"Fine, we'll try a few more times." I construct a Mind Jack from the back of my neck. "Now then, with your consent, I'm going to try connecting directly into your mind with this."
She seems a little skeptical. Not surprising given I had mentioned being able to read minds with it. Few people were comfortable with that and for good reason.
"It's going to act like that telephone idea you mentioned. With it attached, you should be able to transmit your thoughts to me through it with less effort and feel it more clearly when my thoughts touch your mind. I'm hoping that between the exposure and connection you'll be able to manage, but if you want to refuse I'd understand."
She looks down for a moment in thought, biting her lower lip. Then she looks up anxiously and asks, "And you promise you won't read my mind?"
"You have my word." The lie comes easily and with a reassuring smile. "Do I have you permission?"
Saegusa buys it and meekly nods her head, giving consent. The Mind Jack connects into the base of her skull slowly and carefully, but the foreign sensation still makes her twitch in her seat. She reaches back to rub the spot instinctively, only to be surprised when her hand goes through it.
From my experimenting earlier, I can tell people who don't have access to PSI can't feel it or see it. Even then, unless she uses her own Trance or Burst she can't remove it. 'Can you feel my thoughts clearer now?'
"It's hard to put it into words exactly, but it feels… delicate."
'That's the Trance energy, or at least how you're interpreting it. Keep this sensation in the back of your mind and then try to focus on wrapping your own thoughts in it that same feeling and sending it out through the line. Unless you push it through, it won't come to me.'
She closes her eyes and tries again. This time I passively pull at her thoughts in the process, keeping the channel open and letting me hear her thoughts. If I feel her Trance energy starting to form then I'll close it properly, but this is the best chance I'll get to check right now.
He's shown me how to do it. I just have to wrap it up like a present and send it to him. Matou-san, can you hear me? Am I doing it…?
No, he said I have to push it after wrapping it up in that sensation. I can do that much. Just wrap it up… why isn't it working? I'm trying. I really am. You're listening to me now aren't you?
You probably think I'm a failure, but I really am trying. Please tell me its working.
—I keep my features entirely schooled when she eventually opens her eyes, unable to resist her doubts as they mount. There's more than a little fear in her eyes that I heard all of that, but I pretend otherwise. "Nothing's gone down the line yet. Try it one more time."
She screws her eyes shut and tries to block out the paranoia that I'm listening to her inner rambling as it continues, but it doesn't take. There's also no hint of her own Trance energy in the thoughts she's trying to project outwards. Her doubts appear to be actively hampering her.
If we don't do something about that she might hit a mental block and it'll force us to relegate her to something like a pack mule for our belongings to make her useful. And while she might do so without question, it'd probably only add to her doubts. But I can't just tell her that everyone has doubts or some spiel like clearing her mind since she'll think it came from me reading her mind.
I mean, she wouldn't be wrong considering that's exactly what I did. But she doesn't need to know that. What she needs is one solid success to wipe away the doubts. She only has to succeed once today.
And to do that she needs a distraction. 'Saegusa, I want you to focus on one of the happiest memories you have.'
Her eyes open at that.  "A memory?"
'Any that you're comfortable sharing with me,' I clarify. 'I think part of why this isn't working is we aren't going big enough. PSI responds to strong emotions, so if it's a really happy memory then it might work because you'll want to share it. I'll walk you through a visualization technique aloud to keep your thoughts uninterrupted by mine, okay?'
"I'll do my best," she says, her brows folding in determination. The sensation of my thoughts actively touching her mind seems to ease her doubts a lot that I wasn't listening in since she didn't feel it. That's more so a lack of experience on her front, but whatever works.
I start guiding her through it. "Now close your eyes and pick out a memory that you treasure. The more vivid, the better. Immerse yourself into it as deeply as you can until it's as clear as possible. Take as much time as you need."
She closes her eyes and settles in to do so, shoulders rising and falling. It takes several minutes as she tries to find the right memory to use, thoughts flickering back and forth on the surface. Most of them are dreadfully boring at a passing glance, but eventually she settles on one longer than the others—a family moment that spreads a soft smile on her lips.
I take that as a cue to continue. "Since you're smiling, I'm assuming you've got it. Now try to visualize that memory playing in front of you rather than being in the moment. Picture that you're a separate person looking down on that memory."
Her lips furrow slightly as she tries to do so. It's not something most people do, looking at a memory from the outside in. But by pulling herself out of the memory she'll be able to picture it as a separate object and thus have less compunctions about sending it my way.
She tries a few different methods of doing so, but it takes a long time for her to truly manage it. This memory is precious to her and she doesn't want to part with it easily, so she's starting to wonder if she should find a different one. But then she reasons out that I can relate to the feeling as an older brother of having a sibling, and part of her wants let someone else see her brother the way she does even when he acts naughty.
The last step is left now. "If you're ready, I want you visualize that you're sending that memory to me. Our minds are connected, so just picture it being wrapped up in that delicate energy you felt earlier and then picture it floating to me. The rest will follow naturally."
I feel the prickling of Trance energy mere seconds after I go silent. She's doing it. Good. I close the channel between us and ready myself to receive it since her PSI should push it through—
"Yuki-chan, we're back," Mommy says as she steps through the door to our home. "Did you miss us?"
I rush over to her side and stand on my toes to hug her. She's been gone for days now, and she looked like she was in so much pain. Even though Daddy told me she'd be fine, I was worried the entire time. "You're both okay now, right?"
"Better than okay." She kneels down and I see that she has him wrapped up in a bundle of blankets in her arms. My little brother who was inside of her stomach until now. "Say hello to your sister, Kouta."
He looks so cute as he lays there with his pacifier in his mouth, bobbing while his eyes remain closed. It's almost enough to make my heart flutter in my chest.  "He's so little."
"You were even smaller when you were born." Mommy tells me, smiling as she gently rocks him back and forth. I lean on my toes to get a better look at his sleeping face and it seems like he's sleeping well. "Do you want to hold him?"
My head bobs fast enough that I almost get dizzy. Then she carefully holds him out and tells me to support his head. He feels warm and smells nice, but he's a lot heavier than he looks. I'm afraid he'll fall so I hold him close to me.
"Nh…" His little arms shift around, and he starts to move in my grasp. Not enough to make me drop him, but it scares me enough that I might. Then his pacifier falls out of his mouth and his eyes open as they look around, glimmering. Did I wake him up? "Naahhh…"
"Nonono, don't cry." I rock him back and forth like Mommy did. "It's okay, Kouta-kun. It's okay." 
He stops crying as he looks into my eyes, staring at them. Long enough for Mommy to carefully put his pacifier back in. It bobs up and down slowly as he keeps looking at me until his eyelids get heavy and he closes them again.
I let out a sigh, but my heart is fluttering. "That scared me."
"He normally cries a bit more before he goes back to sleep." Mommy brushes his hair softly. "I think he likes his big sister even more than he likes me."
—and barely manage to free myself before it swallows me up entirely. The smell of new baby lingers in my mind longer than it should as I disconnect the Mind Jack before there were anymore surprises.
"Did it work?" Saegusa asks, looking at me expectantly with somewhat tired eyes.
"A little too well." I make a note to refine it before giving someone else a straight-line into my brain like that. Judging from how she's swaying a little in her seat, her first time seems to have thrown her for a loop as well. "How do you feel? PSI tends to be overtaxing the first time it's used, from personal experience."
"My head feels really tingly and a little foggy," she admits, wearing a soft smile flushed with success. "But I really did it this time?"
"That's right." Realistically speaking, it's likely she won't be able to use it unless we get her comfortable enough using Trance to get around how long that took. It'll be incredibly hard to think happy thoughts during our little trips. But right now she needed a win and she got it.
That was what mattered.
Letting her bask in success for the moment, I look to the clock and see we've moved ten minutes past the hour mark. "Since you've done it successfully and I don't want to burn you out for your next part, why don't we take a longer break this time?"
[-Break-]
We return to the Parlor once the two hours are up and find the others are already there since they were closer.
Gai sits next to Himuro and watches as she levitates a playing card off the point of her forefinger. It's wrapped up inside of what looks to be a sleeve of energy and spins slowly in place as she twirls her finger. I think it's safe to say she's gotten through the basics of how to use Burst then.
On the other hand, Makidera is slouching over the arm of the sofa like a wet rag. There's practically no energy left in her body. The pragmatic part of me notes that might be a bit of a problem in the long run and so I force myself not to smile.
Saegusa naturally rushes over to check on her. "Maki-chan, are you okay?"
She sloughs off the couch and into Saegusa's arms, whereupon she starts whining. "Everything is sore… and I'm starving…"
Himuro offers no pity to her plight, only cold words as she sets the playing card down onto the table. "She was reckless once she learned how fast she could move despite the warning she was given and now she's paying the price."
"But she can still train, right?" That's really all I care about now that my thirst for petty revenge has been sated.
Ayako nods. "It shouldn't be too much of a problem for Trance or Burst training since those don't really require her to move around much. Though she's probably going to be sore until tomorrow."
"Ahh… They're all so cruel to me…" She nuzzles her head against Saegusa to wring out some sympathy from probably the only person here who would give her it. "Yukicchi, you're not going to turn on me too, are you?"
Saegusa awkwardly brushes her back softly and assure her she won't before deciding to help her get into the Dining Room so that she can finally get something to eat. Himuro follows after her while inquiring about her own training efforts. She smiles as she tells them that she succeeded on the way out, leaving the three of us to talk amongst ourselves.
I start the conversation. "Well, I can guess from that Makidera shot past the starting line and hit a tree along the way, but what about the other one?"
"She asked a few questions, but she mostly handed it on her own," Gai answers with a slight smile on his face. "She's really amazing."
"It's safe to say they've both got talent in those fields to get it in such a short time," Ayako muses. Then she turns to me. "What about yours?"
I don't want to sugarcoat it considering the stakes. But I also don't want the Track Trio to overhear by chance and undo my efforts. I send it to their heads with Telepathy just to be safe instead. 'Keep quiet on this, but she wouldn't have gotten it on her own. Her mind is filled with so many doubts that she's basically repressing her own PSI unless she goes to a happy place in her mind first. We'll need to see if that's the case with all of them or just Trance, but we'll probably have to spend several days working with her when we can just to get decent results.'
Ayako's mouth forms a slight frown at that. 'You didn't have another… episode, did you?'
Her question and the uncertain look on her face tells me enough. I guess now is as good as a time as any to address this whole issue. 'Gotou, give us the room for a bit.'
Once he's gone, I sit across from Ayako and look her square in the eyes before addressing the elephant in the room. 'You read my mind.'
'I did,' she admits. 'I was worried about you and I just figured I could help better if I saw what was doing that to you.'
'I appreciate the sentiment, but you shouldn't have done that.' I'm not happy that she did it at all, but my priorities are increasing our chances of survivability and yelling won't help right now. 'Have you've seen the same things in your dreams since then?'
She shakes her head. 'No. I can't even remember it very well, but I know there's an impression of something that's—'
I cut her off. 'Don't try to remember it anymore. Your mind wants to forget, so just let it happen and you'll be fine. But don't do that again or you might not be so lucky.'
She breathes out a sigh of relief inadvertently and then looks upset at showing weakness. 'What was that?'
'It's complicated, but I'm dealing with it. I know my condition better than anyone else, and since I've had time to think about it I've come up with a way to possibly stop it from happening again. But don't tell the others what you've seen.'
'Shinji, you flipped out when we were under attack. It's a liability that can get you killed.'
'Mitsuzuri, you told me you trusted me not to read your mind. I kept my word and stayed out of your head because I didn't want to betray that trust. Can't you do the same for me on this?'
She bites down in her lower lip. Thinking. 'Can you at least tell me how you plan on handling it?'
'I've been studying a couple of different solutions in my free time even before now with cognitive psychology. I'll spare you the details, but the gist of it is that what's happening to me isn't something that can be dealt with by modern means. The best and simplest option I had was using sleeping medicine until I gained PSI.'
It isn't a lie. Not entirely. I've been looking into the problem since it started. It's just that there was nothing I could do about it until now.
'Since then I've been experimenting, and you've seen some of the results. I know I can use Trance to influence my perception of time, so self-hypnosis isn't out of the question. I can read memories on a surface level, but what about removing them? Rewriting them?'
She points out the obvious. 'That sounds dangerous. Issei can fix physical damage to the brain, but there's no telling what will happen if something goes wrong with what you're doing to yourself.'
'That's why I've been working on it slowly while my attention is on stopping the body-jacker next time. I just need to be able to do so without being harassed or questioned.'
Ayako doesn't seem quite that satisfied since I'm being vague about it. But unless she has an alternative she really doesn't have a choice but to accept it. Eventually, she sighs in surrender and crosses her arms.
'…Just promise me you'll be careful?' She gives me a gentle look not unlike those my sister does, which is annoying in its own way. 'I know I've been quiet on my own issues, but you still stuck your neck out and got involved with all of this. If it's making this worse, then it's my responsibility to help you deal with it and if that means butting in then I will.'
That's probably the best vow of silence I'll get from her, so I accept it and we shelve the topic there.
[-Break-]
Eventually, the 'Study Club' comes to an end and the results are mixed with the Track Trio.
In terms of Trance, Himuro has some degree of talent while Makidera is an utter failure. The former managed to send out her thoughts without the level of help that Saegusa needed. The latter didn't even manage with help so she's probably as bad as Gotou when he started out.
As for Burst, Saegusa saw success under Gotou's tutelage while Makidera only barely managed to create a construct at all.  Both of them were behind Himuro in that department as well. The Bartender and Ayako will be busy with them, but its good that they've all got potential there.
Rise is where the situation is reversed. Makidera had the strength aspect down without question, but Himuro didn't seem able to use it for more than a short burst. Saegusa had no luck whatsoever. It's possible that they might be more proficient in using the Sense or Healing subcategories, but we didn't have time to check and our resident experts were already out of town.
Since tomorrow is our day off from school, Ayako wanted to use that for a little more practice. But since Makidera has obligations with her family store and Saegusa has to look after her brothers, they wouldn't be able to do training that day. Himuro and Gotou did have time and the pub was closed on Sundays, so Himuro would study under Ayako and Gotou under the Bartender since they wanted to get him used to his new ability.
As for me, I'll continue to work on finding the Einzberns by visiting their castle. I should be able to walk well enough to get back there and see if there's anything left that I can use to locate them. I'm not eager to go there but I can't pass up the chance while I have it.
After that I'll head to the Church to speak to the old man there. Father Dilo introduced himself in the hospital while I was being checked out and had my condition made clear to me. He wanted answers about what happened to the former priest and the Master who had been dispatched by the Clocktower for the war but vanished.
Since Tohsaka and I both knew who had the Command Seals for Lancer it didn't take much effort to put two-and-two together. And since the asshole priest murdered one Master, the old man didn't really question me much when I said the Old Worm went missing along the way. Since it was only natural that he'd be eliminated to get the grail, Dilo went ahead with the paperwork to get the Death Certificate for the Old Worm handled so I could get everything transferred to me.
Since the Church was supposed to handle the flow of information, while the Association and Einzbern cover the cost of collateral damage for the Holy Grail War, he might know where they're located. I won't try reading his mind, since its likely he knows magecraft, but asking won't hurt. Even if he doesn't know or won't tell me, as long as I can find out who repaired the damages and see who footed the bill I can get somewhere.
I'll find a lead that'll point me to them eventually.
---
Chapter 14: A Little Girl's Request
Run-off waters sloshed underfoot as the next leg of Bell's journey took him into a damp corridor that stretched into darkness beneath Central Yharnam, transitioning from the aqueducts to sewers.
He was sheltered from the cold by the garbs he'd taken to wear. The material repelled not only the red of the crows and yellow of the corpses that continued persist through rotten blood, but the water pattering down from the roof and splashing beneath his boots.
The lantern that dangled from his belt only provided a little illumination that gleamed off the wet, slime-slickened stone walls. Even so he could see the silhouette of something that lurked behind the veil of mist further ahead. His grip on his Saw Spear tightened as he slowly pressed forward, wondering what beast he would have to kill this time to advance into the Tomb of Oedon….
"WEEEEEEEEE!!"
And then a wet, shrill shriek nearly deafened him as it echoed off the walls, rattling his bones down to the core and making the filthy water beneath his boots shudder. Ears pounding as he clutched his head with his off-hand. He knew that sound, or at least he could match it to the pigs that lived on the farm he worked with his Grandpa on before he came to Orario only a little while ago
So, when the ringing in his ears gave way to the hooves thundered through the water towards him and the growing silhouette, Bell promptly started running the opposite way to avoid being trampled. He didn't look back as the presence of something massive closed in, instead working his legs as fast as he could to bring him to the mouth of the tunnel. The moment he breached the entrance, then threw himself to the side.
The rushing mass of unshapely, bloated flesh that was the Maneater Boar charged right by. Larger than any man and even most of the monsters he'd faced in the Upper Floors of the Dungeon so far. How something this large had gotten into the city unnoticed was a mystery, but a voracious squeal revealed bloodstained, yellowed teeth with scraps of cloth wedged between them as it swung its head around to face the young hunter—
BLAM!
—and was met with the bark of a Quicksilver bullet bursting on impact as it struck the bulbous part of its head. It stumbled back a step, squealing as it shook off the shot. Then it charged for Bell once again.
Bell stepped out of the way of its charge, water splashing against his trousers as the boar hit the stone bridge hard enough that dust and bits of stone by the ladder were wrenched loose. He got around to the side, tensed the muscles in his arm holding the furled Saw Spear until it felt like they were going to snap, and swung downwards at an angle with all his might. "RAAAGH!!"
The broad side of the swine was torn into by the serrated teeth. Ripping through the hide and letting a loose spray of crimson that buried the fluids already present on the blade and gloves, the impact struck bone and buckled the boar's knees. It collapsed, shrieking.
Bell unfurled the Saw Spear as he reared back for a thrust with the sharpened tip. He'd seen how to slaughter hogs before; a stun to the head and then cutting open the arteries to bleed it out. But there was no way he was going to be able to roll it over, so he instead tried to stab through its throat by brute force.
The Maneater Boar belched before he could, spitting out a cloud of noxious fumes. It was like acid had been splashed into his eyes. Stinging and gnawing away at them to extent that he couldn't bear the pain, his thrust was thrown off and resulted in a grazing cut through the back of its neck.
Bell blindly ran out, crying hot tears until he hit a wall and added to the pain. He braced it while hoping to blink away the pain even as it gnawed on the inside of his eyelids. Then he spun so that his back was to the wall and forced his eyes open to see the blurred mass charging him again.
Gritting his teeth, Bell pushed off the wall into a charge of his own. Abandoning the pistol in his off hand, he grabbed the Saw Spear with both hands and dragged it behind him. Though blurred and anguished vision, he saw the saggy, grey flesh closing in and then quickstepped out of the way while swinging the unfurled length of jagged teeth with as much force as he could.
His arms nearly buckled and broke as his weapon found its flesh. Between the strength of its wielder and momentum of its prey, the weapon sheared through the hide, fat, and muscle. The metal teeth cut it from cheek to leg bone before Bell finished the swing with his own power, ripping it forward to take the hind leg out as well.
Death throes followed as Bell then stumbled away from the boar, leaving it to bleed out as he found another wall to put his back against. Only when he felt the echoes flowing into him did he drop the Saw Spear into the water and pull off his backpack, where he kept a cloth inside along with a canteen. Necessities for an adventurer, Eina had told him.
They provided relief as he poured the clean water over his eyes to wash out the acrid particles and dried his face. Then he picked back up his Saw Spear, reloaded his Hunter's Pistol, and gave the massive boar a final glance before he pressed on into the tunnels that had apparently been its lair. It was there he saw just what it had been fattening itself up on—corpses of other people, including another hunter.
"Grandpa always said pigs would eat anything, but still…" Bell searched the gnawed corpse and came across another badge. It looked like a saw. He put it away and then moved onto the other one, where his gloved hands brushed over something beneath the half-bloated body.
It gave him a similar feeling to when echoes were flowing into him, only concentrated at the point where he touched rather than being taken into his body. He lifted the torn cloth and found a droplet that refused to fully harden or dry out, making it somewhat gelatinous and malleable. Was this what Gehrman mentioned before? He decided to ask the veteran later as he stored it away.
Then he moved on.
[R-M]
Bell was greeted with a slaughter when he finally reached the Tomb of Oedon.
It was a graveyard of barren dirt and mangled trees, a chill permeating the air starved of light as the oil lampposts were dimly-lit and the towering buildings that laid beyond the outer gates cast an eerie shadow over the enclosure that hid the evening sun. Headstones were placed without regard for order or respect, erected in seemingly random ways that left them cluttered as they leaned in exhaustion like the stone monument that was in the center of the graveyard, worn down by its timeless vigil over the amassed dead that laid beneath the surface.
The scent of blood hung richly in the air, stemming from the bodies of the recently dead. Men who were once among the living joined the long-time residents in pieces, butchered with their limbs strewn in random directions and their blood bringing vibrant splashes of color to the worn stones, parched dirt, and thirsty bark.
"Hah. Haaaah. Hhhaaah." The wet, sticky sound of meat being pounded was padded out by the sound of heavy, hard breathing that made Bell's stomach churn as he spotted bloodied steel being raised and then slammed down. A hunter with his back facing the novice to the Hunt finished striking at a corpse once he'd severed the head, a final splash of the lifeblood to decorate the half-cape he wore.
Then he stood straight, the scarf around his neck caked in dirt and blood swaying its frayed and torn ends as he spoke. "…Beasts all over the shop… You'll be one of them, sooner or later…"
The blood within Bell's body froze in place and his heart stalled as the man with gray hair slowly turned his head, the light of the oil lamp catching the white of the bandages over his eyes and beneath his hat. The knot in his gut tightened as the man let out a half-snarl while he baring his teeth, his raspy and haggard breath coming out as a plume. Recognition moved the young hunter's lips as he muttered, "Mister Gascoigne?"
He found himself frozen like a deer in the headlights until the veteran hunter raised his pistol. Then he threw himself to the side as the trigger was pulled. What should have been a single Quicksilver bullet was broken into a wide-spread that patterned the stone arch by where he stood, bursting on impact.
Bell scrambled to get back up as he noticed the man now closing the distance, axe in hand. He tried to call out to him from beneath the bandana covering his mouth. "Wait, I'm not a beast! I'm a hunter like you!"
The man's response to that was to bring his bloodied axe around for Bell's neck. It caught the steel of the Saw Spear as Bell raised it in defense, being all that saved him from losing his head. Even so, the impact of the blow shot through his arms and made them buckle as he was sent staggering to the left and off-balance.
Bell barely had time to get the Saw Spear and his balance back up as the axe came around again. The blow was even heavier this time, resulting in blooming sparks and jolting pain. His arms were nearly jerked from their sockets while his weapon was sent flying from his grasp.
He could hear it land somewhere to the left, but he didn't have time to look as Gascoigne chambered the axe for a follow-up. The primal fear of death drove his feet and threw him backwards. That was all that saved him as the cleaving swing that would have split him right down the middle to hit the ground hard enough to throw dirt askew.
"Please, stop!" Bell half-cried as he got back on his feet and stepped back only to feel hard bark against his back. "I came here because your daughter—AHH!"
His words turned into a frantic cry as he spun on his foot and got behind the tree. The gnarled, dense wood twice as thick as Bell shook as it caught the blade, albeit only after it managed to bury itself all the way to the back. The fact that he managed that with a single swing of the arm said everything that needed to be said.
Before Gascoigne could jerk it free, Bell broke into a sprint towards where he heard his weapon fall. It was somewhere between the haphazardly placed headstones and the monument slouched over in the ground like a weary sentinel. He made it halfway there when the sound of the tree cracking and collapsing behind him left him to glance back and then shout as he twisted around and brought his arms up in time to intercept the Hunter's Axe.
"AAHH—" His brief scream was drowned out by the headstones shattering as his shoulder-guard plowed through it, leaving him to tumble forward and land face-down. Glass shattered as he hit the ground hard enough to bounce before he came to a stop at the foot of the monument. Everything hurt, the broken fragments from the hand lantern buried into his waist and the world bending and swaying as groaned softly.
Bell's fingers twitched, revealing his hands were still attached. The forearm guards stopped him from losing his arms, but that only meant that instead of being cleaved in two he was sent flying instead. He poured whatever strength he could into them as death closed in with weapon raised to fire the Hunter's Pistol he somehow managed to keep a grip on and the Quicksilver bullet caught the veteran hunter in the chest, leaving him to stagger.
The young hunter took the chance to liberate his vial injector from its holster and then drove the needle straight into his body to let the blood vial do its work. His vision cleared to the dark hues of the world around him and enough strength returned so that he could get back on his feet and run as Gascoigne threw himself forward with the axe to try and split him in two again, cutting down into the base of the monument. He nearly stumbled over his feet to get to the Saw Spear, taking its metal shaft into his grip and holding it out with shaking hands as the man jerked his axe free and slowly rose back up to his full height.
"Please, stop! I don't want to fight! I—"
"RAAH!!" The words were drowned out by the roar of the man as he went back on the attack, whipping around his pistol and pulling the trigger. Quicksilver barked out of its mouth and the metal sprayed out.
"Ugh!" Bell lurched, forced to his knees as it caught and ruptured inside his thigh and abdomen. He only saw the axe, stained with blood that was meshed with stone dust, splinters, and dirt, as it came around in a blur.
Then there was pain as it found his unprotected neck at last.
[R-M]
Bell awoke with a jerking motion, instinctively clutching his neck. When his fingers found it was still attached, he let out a sigh and then fell to his knees as he took in his surroundings. He was in the Hunter's Dream once more, having suffered the first death of the night.
He'd been killed by the person that he'd been asked to find—a man much stronger than him, relentless and brutal. No matter how much he'd begged, his words just wouldn't reach him. Then that only left one alternative and the very thought left him frozen when he considered what that would mean for the Little Girl.
The Plain Doll naturally inquired into his silent dismay from her perch by the stairs. "Are thou not well, Good Hunter?"
"I… I'm fine," he lied, rising to his feet. He needed to see Gehrman before he could do anything else. Maybe he would have a solution.
He began to ascend the stairs when the mewlings of the Little Ones reached his ears and he remembered the badge he'd found. He fished it out and then gently tossed it to them, only for the emaciated limbs to snatch it and then dunk it into their bath. A light haze wafted up from the surface but he passed up the chance to peruse the new weapons and instead made his way up to the Workshop.
The aged hunter stared up at a weapon that hung high on the wall until he noticed Bell. His seasoned eyes took in Bell's appearance and a sound bubbled up in his throat. "Ah, I see you've found yourself proper Yharnam Hunter attire. It was made for new recruits who joined in the Hunt under Ludwig's banner. Freedom of movement while keeping the blood away."
"The person they belonged to had died and I needed something to wear since my own were soaked." His throat felt tight, so he took a moment to swallow after admitting his theft and looked down to see the garments were cleaned of the grime and filth, holes from where the bullets had punched through patched. His armor was still battered though, untouched by whatever magic of the Dream had mended them.
"You've no need to feel shame. In taking up the Hunter's task, it's natural that the tools of the fallen be put to use," the elderly hunter assured him. "Did fortune favor your search for bloodstone?"
"I think so." Bell moved over to the table and set his backpack down onto it. Then he fished out what he'd found and set them down next to his broken weapon. The sole exception was the Tiny Music Box, forgotten in his desperate attempt to survive. She said they used this to remind him, didn't she?
"Yes. These are Bloodstone Shards," Gehrman said as he wheeled himself over and peered at the white and red stones with a helix in the center of each. Then he touched the droplet that Bell had pocketed. "And a Coldblood Dew. We can repair your weapons with these if you crush the droplet to take the echoes into yourself."
Bell took the droplet between his gloved fingers and then put strength into it. The droplet broke open and then the light, misty feeling of echoes flowing into him followed. It was a piddling amount compared to that which was left behind at the site of his death, but it was better than nothing. "What now?"
"Now you fortify it." Gehrman placed three of the shards he'd gathered onto the broken Saw Cleaver. "Here. Extend your hand over them and will them into it. The Dream will do the rest for you using the echoes you've taken in."
Bell did as told and held his hands over the broken steel that had snapped. The weapon had carried him throughout his first attempt and helped him prevail against the Minotaur that had killed him. It was his carelessness that left it in this state, so he silently willed for it to be made whole. Willed for the shards to be one with the weapon. For it to be stronger.
The echoes within him began to bleed out like a crimson mist that circled around the weapon and shards in response. Bloodstone shattered into dust that mixed in with the haze and both sank into the Saw Cleaver. It snapped back into its original state as if by magic, the only visible alteration being a slot that had formed at the base of the steel.
"There we are." Gehrman lifted it up and tapped the handle against the workbench. Rather than the sound of wood-on-wood, it sounded more like metal striking wood. "The moment bloodstone gets introduced into the material, all of it becomes harder. Sharper and more suitable for the Hunt."
"Is that normally how that works?" Bell asked. He'd never seen a blacksmith at work, but he had the distinct impression that it wasn't like this.
"The true method takes much longer," the aged hunter explained. "In the early days of the Hunt it was much rarer to find these materials and hunters had to make do with what they had—wood and steel with some exceptions. This Saw Cleaver is a relic from that time, an older model rather than the more recent one. But the first hunters knew how to refine the technique they had and learned to be agile since those who never took a claw never needed blood to heal. Then, and only then, did it become a matter of making sure that the weapon could keep up with them."
There was almost nostalgic look on the veteran hunter's face as he spoke. But as quickly as it came, it vanished. He turned the weapon in his hand and held it out to Bell. "That should serve you well enough for now, but larger beasts will no doubt prove difficult should they arise. Remember to keep your steel sharpened and seek out larger shards and chunks."
"I'll try…" Bell took the weapon into his grasp with some hesitation. If his weapon was repaired then he had no excuse not to set out again, following the same path he did until he returned the place where he'd met his demise. He would try to reach the hunter again, this time with the music box.
But… what would he do if it didn't work? Gascoigne didn't seem like he would just let Bell walk past him to get into the Cathedral Ward through the Tomb of Oedon. And leaving him alone if he was truly blood-drunk meant more people would be in danger. But what was he supposed then? Kill him?
If I did that, what will I tell his daughter or wife? Bell felt sick to his stomach at the thought. What would I tell Hestia?
"Is there something that still troubles you?" Gehrman asked.
"…There's a Hunter who's blocking the way to the Cathedral Ward," Bell confessed. "He has a wife. And a daughter who's waiting for him to come back. I don't want to kill him if I can help it."
"I fear your kindness is misguided if he has gone mad, young hunter," he said. "No Hunter desires to become that which he once hunted. But as the years go on some succumb and become beasts. And beast must be hunted."
Bells lips pressed thin. He already knew that some people became beasts when drunk with blood. He knew that. But Gascoigne couldn't have been that far gone if it had only been hours since his daughter last saw her parents. "I think he can still be reasoned with."
"You are free to try," Gehrman said. "That is a luxury that you have that others do not. But should you find that words will not reach him, then show him mercy as only a Hunter can and free him from the shackles of his own making."
---